Nominal Chemical
Composition
⇩ Product Data Sheet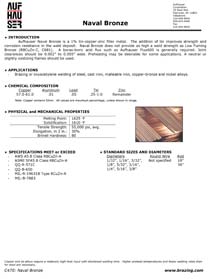 Download Datasheet (PDF)
⇩ Safety Data Sheet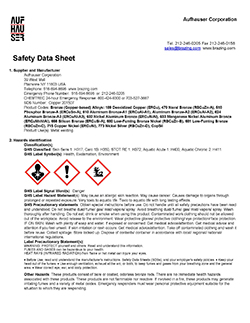 Download SDS
(PDF)
INTRODUCTION
Aufhauser Naval Bronze is a 1% tin-copper-zinc filler metal. The addition of tin improves strength and corrosion resistance in the weld deposit. Naval Bronze does not provide as high a weld strength as Low Fuming Bronze (RBCuZn-C, C681). A borax-boric acid flux such as Aufhauser Flux600 is generally required. Joint clearances should be 0.002" to 0.005" wide. Preheating may be desirable for some applications. A neutral or slightly oxidizing flames should be used.
ADVANTAGES
Joints are made at lower temperature than in gas or arc welding
Minimizes thermal stress and distortion
Less susceptibility to cracking
Soft and ductile weld deposits
Easy machinability
Low residual stress
High strength fillets
Mobile equipment for simple on-site repair
METALS TO BE BRAZE WELDED
Steels, cast irons, copper alloys, nickel alloys and stainless steel
APPLICATIONS
Brazing or oxyacetylene welding of steel, cast iron, malleable iron, copper-bronze and nickel alloys.
GENERAL INFORMATION
Chemical Composition
| Copper | Aluminum | Lead | Tin | Zinc |
| --- | --- | --- | --- | --- |
| 57.0-61.0 | 0.01 | 0.05 | 0.25-1.0 | Remainder |
ADDITIONAL INFORMATION
Copper and its alloys require a relatively high heat input with shortened welding time. Higher preheat temperatures and faster welding rates than for steel are necessary.
PHYSICAL and MECHANICAL PROPERTIES

| | |
| --- | --- |
| Melting Point | 1625 °F (885°C) |
| Solidification | 1610 °F (877°C) |
| Tensile Strength | 55,000 psi, avg. |
| Elongation in 2" | 30% |
| Brinell Hardness | 80 |
SPECIFICATIONS MEET or EXCEED
AWS A5.8 Class RBCuZn-A
ASME SFA5.8 Class RBCuZn-A
QQ-R-571C
QQ-B-650
MIL-R-19631B Type RCuZn-A
MIL-B-7883
STANDARD SIZES AND DIAMETERS

| Diameters | Round Wire | Rod |
| --- | --- | --- |
| 1/32", 1/16", 3/32", | Not specified | 18" |
| 1/8", 5/32", 3/16", | | 36" |
| 1/4", 5/16", 3/8" | | |
TYPICAL USES FOR ALLOY C470
| Product Category | Product | Reason Category | Reason |
| --- | --- | --- | --- |
| Industrial | Brazing Rod and Wire | Conductivity (Electrical) | Electrical Conductivity |
COMPLEMENTARY AUFHAUSER PRODUCTS