Home

/

Copper Alloy C610 Electrode
C610 Aluminum Bronze A-1 Electrode
Nominal Chemical
Composition
⇩ Product Data Sheet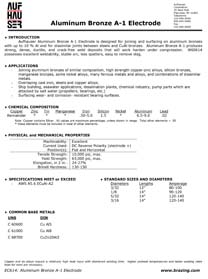 Download Datasheet (PDF)
⇩ Safety Data Sheet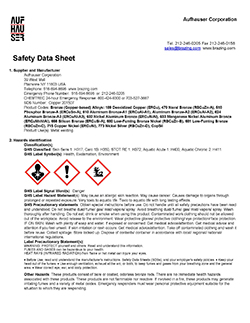 Download SDS
(PDF)
INTRODUCTION
Aufhauser Aluminum Bronze A-1 Electrode is designed for joining and surfacing on aluminum bronzes with up to 10% Al and for dissimilar joints between steels and CuAl-bronzes. Aluminum Bronze A-1 produces strong, dense, ductile, and crack-free weld deposits that will work-harden under compression. Possesses excellent weldability, stable arc, less spatters; easy to remove slag.
APPLICATIONS
Joining aluminum bronzes of similar composition, high strength copper-zinc alloys, silicon bronzes, manganese bronzes, some nickel alloys, many ferrous metals and alloys, and combinations of dissimilar metals
Overlaying cast iron, steels and copper alloys
Ship building, seawater applications, desalination plants, chemical industry, pump parts which are attacked by salt water (propellers, bearings, etc.)
Surfacing wear- and corrosion-resistant bearing surfaces
GENERAL INFORMATION
Chemical Composition
| Copper | Iron | Lead | Aluminum | Silicon | Other* |
| --- | --- | --- | --- | --- | --- |
| Remainder | 0.50-5 | 0.02 | 6.5-9 | 1.5 | 0.50 |
* Total other includes: Zinc, Tin, Manganese, Nickel = 0.50%
ADDITIONAL INFORMATION
Copper and its alloys require a relatively high heat input with shortened welding time. Higher preheat temperatures and faster welding rates than for steel are necessary.
PHYSICAL and MECHANICAL PROPERTIES

| | |
| --- | --- |
| Machinability | Excellent |
| Current Used | DC Reverse Polarity (electrode +) |
| Position(s) | Flat and Horizontal |
| Tensile Strength | 10,000 psi, max. |
| Yield Strength | 63,000 psi, max. |
| Elongation in 2" | 24-27% |
| Brinell Hardness | 130-150 |
SPECIFICATIONS MEET OR EXCEED
STANDARD SIZES AND DIAMETERS
| Diameters | Lengths | Amperage |
| --- | --- | --- |
| 3/32" | 12" | 80-100 |
| 1/8" | 14" | 90-120 |
| 5/32" | 14" | 120-140 |
| 3/16" | 14" | 120-140 |
COMMON BASE METALS
| UNS | DIN |
| --- | --- |
| C 60600 | Cu Al5 |
| C 61000 | Cu Al8 |
| C 68700 | CuZn20Al2 |
TYPICAL USES FOR ALLOY C610
| Product Category | Product | Reason Category | Reason |
| --- | --- | --- | --- |
| Architecture | Decorative Applications | Appearance | Appearance |
| | Decorative Applications | Appearance | Gold Color |
| | Decorative Applications | Mechanical Properties | Moderate Strength |
| Fasteners | Bolts | Forming Characteristics | Formability |
| | Bolts | Mechanical Properties | Moderate Strength |
| Industrial | Overlay on Steel for Wearing Surface | Friction & Wear Properties | Wear Resistance |
| | Overlay on Steel for Wearing Surface | Mechanical Properties | Moderate Strength |
| | Overlay on Steel for Wearing Surface | Welding Characteristics | Weldability |
| | Pump Parts | Forming Characteristics | Formability |
| | Pump Parts | Friction & Wear Properties | Wear Resistance |
| | Pump Parts | Mechanical Properties | Moderate Strength |
| | Pump Parts | Mechanical Properties | Toughness |
| | Shafts | Forming Characteristics | Formability |
| | Shafts | Mechanical Properties | Ductility |
| | Shafts | Mechanical Properties | Moderate Strength |
| | Tie Rods | Friction & Wear Properties | Wear Resistance |
| | Tie Rods | Mechanical Properties | Moderate Strength |
| | Tie Rods | Welding Characteristics | Weldability |
| | Welding Wire | Welding Characteristics | Weld Alloy - C613 |