Nominal Chemical
Composition
⇩ Product Data Sheet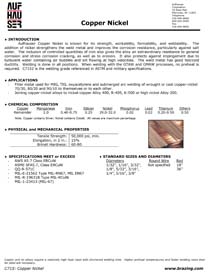 Download Datasheet (PDF)
⇩ Safety Data Sheet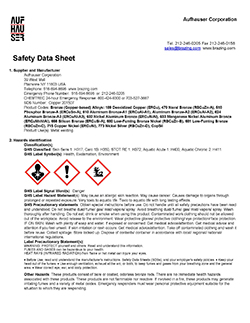 Download SDS
(PDF)
INTRODUCTION
Aufhauser C715 Copper Nickel is known for its strength, workability, formability, and weldability. The addition of nickel strengthens the weld metal and improves the corrosion resistance, particularly against salt water. The inclusion of controlled quantities of iron also gives the alloy an extraordinary resistance to general corrosion and stress corrosion cracking, as well as to erosion. It also protects against impingement due to turbulent water containing air bubbles and silt flowing at high velocities. The weld metal has good hot/cold ductility. Welding is done in all positions. When welding with the GTAW and GMAW processes, no preheat is required. C715 is the welding grade referenced in ASTM and military specifications.
APPLICATIONS
Filler metal used for MIG, TIG, oxyacetylene and submerged arc welding of wrought or cast copper-nickel 70/30, 80/20 and 90/10 to themselves or to each other

Joining copper-nickel alloys to nickel-copper Alloy 400, R-405, K-500 or high nickel Alloy 200
GENERAL INFORMATION
Chemical Composition
| Copper | Manganese | Iron | Silicon | Nickel | Phosphorus | Titanium | Others |
| --- | --- | --- | --- | --- | --- | --- | --- |
| Remainder | 1.0 | 0.40-0.75 | 0.25 | 29.0-32.0 | 0.02 | 0.20-0.50 | 0.50 |
Note: Copper contains Silver; Nickel contains Cobalt. All values are maximum percentage, unless shown in range.
ADDITIONAL INFORMATION
Copper and its alloys require a relatively high heat input with shortened welding time. Higher preheat temperatures and faster welding rates than for steel are necessary.
PHYSICAL and MECHANICAL PROPERTIES

| | |
| --- | --- |
| Tensile Strength | 50,000 psi, min. |
| Elongation in 2" | 15% |
| Brinell Hardness | 60-80 |
SPECIFICATIONS MEET OR EXCEED
AWS A5.7 Class ERCuNi
ASME SFA5.7, Class ERCuNi
QQ-R-571C
MIL-E-21562 Type MIL-RN67, MIL EN67
MIL-R-19631B Type MIL-RCuNi
MIL-1-23413 (MIL-67)
STANDARD SIZES AND DIAMETERS
| Diameters | Round Wire | Rod |
| --- | --- | --- |
| 1/32", 1/16", 3/32", | Not specified | 18" |
| 1/8", 5/32", 3/16", | | 36" |
| 1/4", 5/16", 3/8" | | |