Home

/

Copper Alloy C518 Electrode
C518 Phosphor Bronze A Electrode
Nominal Chemical
Composition
⇩ Product Data Sheet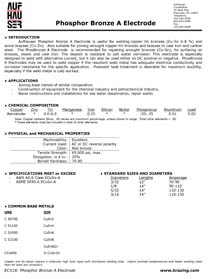 Download Datasheet (PDF)
⇩ Safety Data Sheet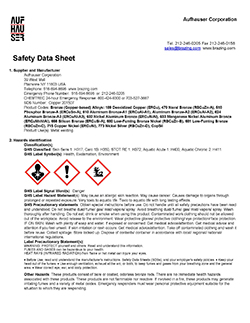 Download SDS
(PDF)
INTRODUCTION
Aufhauser Phosphor Bronze A Electrode is useful for welding copper tin bronzes (Cu-Sn 6-8%) and some brasses (Cu-Zn). Also suitable for joining wrought copper-tin bronzes and brasses to cast iron and carbon steel. The PhosBronze A Electrode is recommended for repairing wrought bronzes (Cu-Sn); for surfacing on brasses, steels, and cast iron. The deposit is resistant to salt water corrosion. This electrode is especially designed to weld with the alternative current, but it can be used either on DC positive or negative. PhosBronze A Electrodes may be used to weld copper if the resultant weld metal has adequate electrical conductivity and corrosion resistance for the specific application. Postweld heat treatment is desirable for maximum ductility, especially if the weld metal is cold worked.
APPLICATIONS
Joining base metals of similar composition
Construction of equipment for the chemical industry and petrochemical industry
Naval constructions and installations for sea water desalination, repair works
GENERAL INFORMATION
Chemical Composition
| Copper | Tin | Aluminum | Iron | Lead | Phosphorus | Other* |
| --- | --- | --- | --- | --- | --- | --- |
| Remainder | 4.0-6.0 | 0.01 | 0.25 | 0.02 | 0.05-0.35 | 0.50 |
Note: Copper contains Silver. All values are maximum percentage, unless shown in range. * Total Other elements include Manganese, Nickel, Silicon, Zinc.
ADDITIONAL INFORMATION
Copper and its alloys require a relatively high heat input with shortened welding time. Higher preheat temperatures and faster welding rates than for steel are necessary.
PHYSICAL and MECHANICAL PROPERTIES

| | |
| --- | --- |
| Machinability | Excellent |
| Current Used | AC or DC reverse polarity |
| Color | Red bronze |
| Tensile Strength | 65,000 psi, max. |
| Elongation in 4" | 20% |
| Brinell Hardness | 70-85 |
SPECIFICATIONS MEET or EXCEED
AWS A5.6 Class ECuSn-A
ASME SFA5.6 Class ECuSn-A
STANDARD SIZES AND DIAMETERS

| Size | Lengths | Amperage |
| --- | --- | --- |
| 3/32" | 12" | 70-90 |
| 1/8" | 14" | 90-110 |
| 5/32" | 14" | 110-130 |
| 3/16" | 14" | 110-130 |
COMMON BASE METALS

| UNS | DIN |
| --- | --- |
| C 50700 | CuSn2 |
| C 51100 | CuSn4 |
| C 51900 | CuSn6 |
| C 52100 | CuSn8 |
| | CuSn6Zn |
| C 52400 | G-CuSn10 |
TYPICAL USES FOR ALLOY C518
| Product Category | Product | Reason Category | Reason |
| --- | --- | --- | --- |
| Industrial | Welding Wire | Conductivity (Electrical) | Electrical Conductivity |
| | Welding Wire | Conductivity (Thermal) | Thermal Conductivity |
| | Welding Wire | Corrosion Resistance | Oxidation Resistance |
| | Welding Wire | Softening Resistance | Resistance to Thermal Softening |