Home

/

OFHC Copper CDA 101
Nominal Chemical
Composition
⇩ Product Data Sheet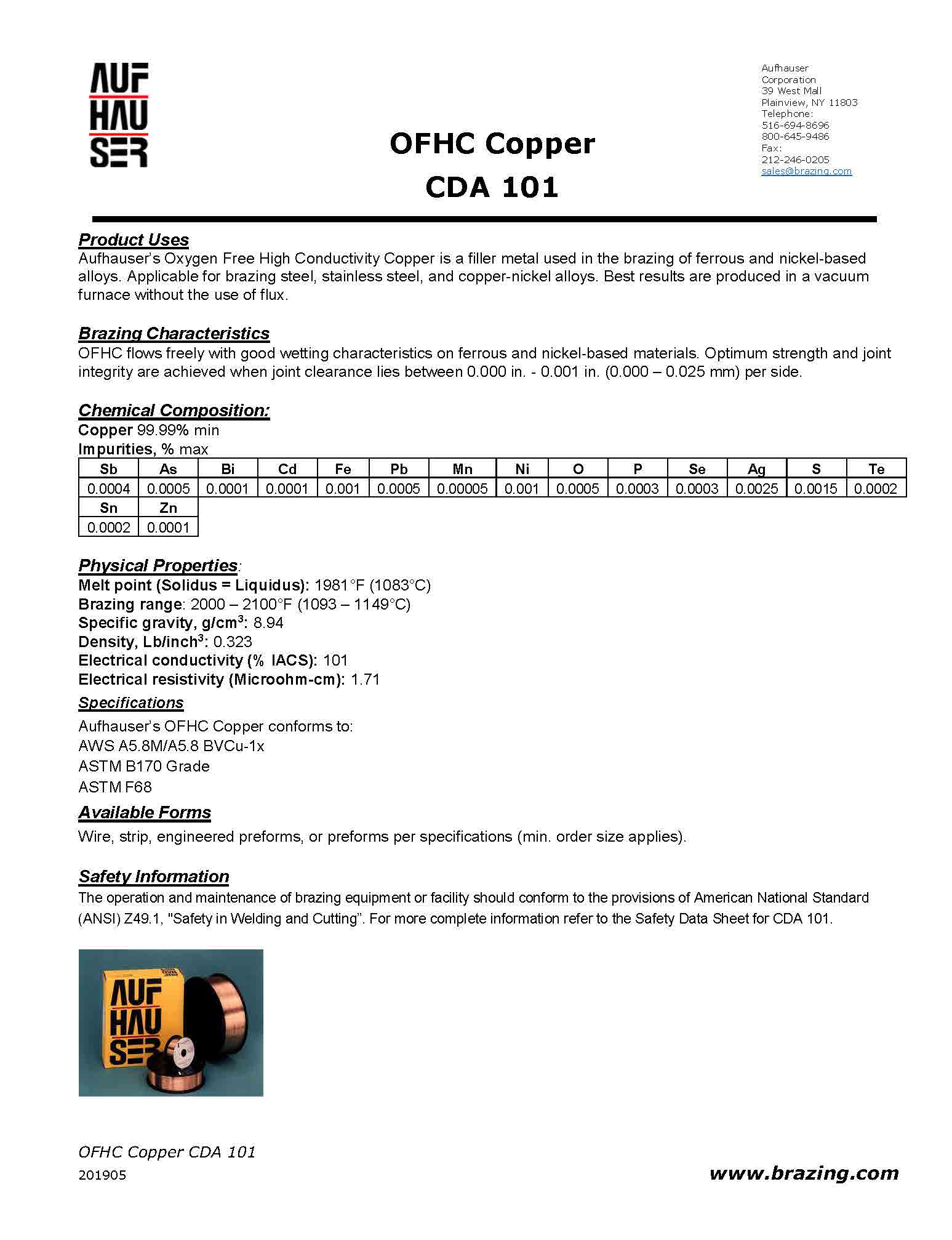 Download Datasheet (PDF)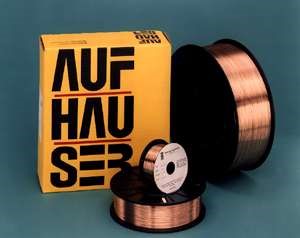 INTRODUCTION
Aufhauser's Oxygen Free High Conductivity Copper CDA 101 is a filler metal used in the brazing of ferrous and nickel-based alloys. Applicable for brazing steel, stainless steel, and copper-nickel alloys. Best results are produced in a vacuum furnace without the use of flux.
BRAZING CHARACTERISTICS
OFHC flows freely with good wetting characteristics on ferrous and nickel-based materials. Optimum strength and joint integrity are achieved when joint clearance lies between 0.000 in. - 0.001 in. (0.000 - 0.025 mm) per side.
GENERAL INFORMATION
Chemical Composition
Impurities, % max:
| Sb | As | Bi | Cd | Fe | Pb | Mn | Ni |
| --- | --- | --- | --- | --- | --- | --- | --- |
| 0.0004 | 0.0005 | 0.0001 | 0.0001 | 0.0010 | 0.0005 | 0.00005 | 0.0010 |
| O | P | Se | Ag | S | Te | Sn | Zn |
| --- | --- | --- | --- | --- | --- | --- | --- |
| 0.0005 | 0.0003 | 0.0003 | 0.0025 | 0.0015 | 0.0002 | 0.0002 | 0.0001 |
PHYSICAL and MECHANICAL PROPERTIES

| | | |
| --- | --- | --- |
| Melt point (Solidus = Liquidus) | 1981°F | 1083°C |
| Brazing range | 2000 - 2100°F | 1093 - 1149°C |
| Specific gravity, (g/cm³) | 8.94 | |
| Density (Lb/inch³) | 0.323 | |
| Electrical conductivity (% IACS) | 101 | |
| Electrical resistivity (Microohm-cm) | 1.71 | |
SPECIFICATIONS
Aufhauser's OFHC Copper CD101 conforms to:
AWS A5.8M/A5.8 BVCu-1x
ASTM B170 Grade
ASTM F68
AVAILABLE FORMS
Wire, strip, engineered preforms, or preforms per specifications (min. order size applies.)