⇩ Product Data Sheet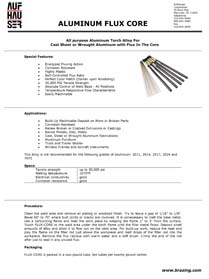 Download Datasheet (PDF)
⇩ Safety Data Sheet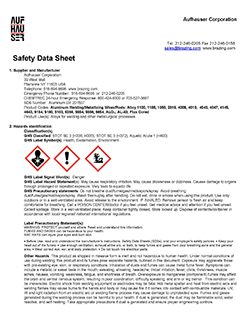 Download SDS
(PDF)
INTRODUCTION
All purpose Aluminum Torch Alloy for cast sheet or wrought aluminum with flux in the core.
MAJOR ADVANTAGES
Energized Fluxing Action
Corrosion Resistant
Highly Plastic
Self-Controlled Flux Ratio
Perfect Color Match (darker upon anodizing)
30,000 PSI Tensile Strength
Absolute Control of Weld Bead - all positions
Temperature Responsive Flow Characteristics
Easily Machinable
APPLICATIONS
Build-Up Machinable Deposit on Worn or Broken Parts
Corrosion Resistant
Renew Broken or Cracked Extrusions or Castings
Revise Models, Dies, Molds
Cast, Sheet or Wrought Aluminum Fabrications
Aluminum Furniture
Truck and Trailer Bodies
Window Frames and Aircraft Instruments
This Alloy is not recommended for the following grades of aluminum: 2011, 2014, 2017, 2024 and 7075
PHYSICAL and MECHANICAL PROPERTIES
| | |
| --- | --- |
| Melting Temperature | 1075°F (579°C) |
| Tensile Strength | up to 30,000 psi |
| Electrical Conductivity | good |
| Corrosion resistance | good |
STANDARD SIZING
Package: 2 lbs tube, 10 tubes per 20-lbs carton
PROCEDURE
Clean the weld area and remove all plating or anodized finish. Try to leave a gap of 1/16" to 1/8". Bevel 60° to 70° where butt joints or cracks are involved. It is unnecessary to melt the base metal. Use a carburizing flame and heat the work piece by keeping the flame 1" to 3" from the surface. Touch FLUX-CORE to the weld area under the torch flame until the filler metal flows. Deposit small amounts of alloy and allow it to flow out on the weld area. For build-up work, reduce the heat and play the flame on the filler rod just above the workpiece and melt drops of the filler rod into the workpiece. Remove the flux residue with warm water and a stiff brush. Crimp the end of the rod after use to seal in any unused flux.
Also available: Stainless Steel Flux Cored